Raising Your Awareness About "How Things Are Going
Life is fast, and generally days are full. Most of us have, at one time or another, wished to be in a happy, healthy, long term relationship and we have given thought to what such a relationship would look like for us. Once we are IN a long-term relationship, however, it is easy to stop thinking about our relationships in a conscious, mindful way in order to improve them. We function day-to-day, and week-to-week, but rarely give ourselves our own review. How do we get better at life, if we never think about our strengths and vulnerabilities?
We may feel generally content; we may feel quite distressed. Many couples experience their relationship not as a steady-state, but as an experience with "some roses and some thorns", some highs and lows. When the highs are much more frequent than the lows, and the roses are the rule, and the thorns the exception, couples tend to be satisfied with their relationship.
Even in satisfying relationships, though – and certainly in relationships that are struggling – most couples function well in certain areas of their lives together, and perhaps not so well in other areas. If we take a few minutes to think consciously about our relationships, and then have a conversation about our thoughts, we can learn a lot about ourselves, and our mates, and create opportunities for improving our patterns that are not as we would wish.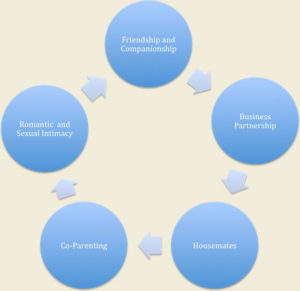 Here is a pretty easy, straightforward model for reviewing a long-term relationship. Not all sections of the chart may apply to you, and your relationship, so just attend to the areas that are relevant.
First, consider each area of your relationship. Give some thought (even take some notes!) about how each area is functioning currently, and how that area has functioned in the past. Does your relationship look the way you want it to – in that arena? If not, how would you like to change it? What can you do to improve things? What would you like to ask your mate to work on? (Focus mostly on what YOU can do to change – that is what you have control over.)
Next, think about the parts of your relationship that you feel are very strong. What do you and your mate do well? Have you gotten better at things in that arena over time? If so – how did you make things better? What can you take credit for? What can you give your mate credit for? (Try to be generous . . . especially if you want to talk about this with your partner.)
There is one more area of relationship that is important to consider as a foundation and that is the extent to which you feel your relationship fosters personal growth and development – in ANY area of life that you wish to work on. The areas illustrated by this chart are those that both partners participate in to some extent. But all of us need support for our own interests, goals, and yearnings. How does your relationship foster your own creativity, your own faith, your own spirituality, your own education, your own physical fitness – whatever it is that is important to you as an individual within – or separate from – your relationship? That is the sixth area, but it underlies all others.
Think about the areas you would like to focus on over the coming months – to make things better, or to become more appreciative of the strengths in that area that already exist. Noticing things in our lives that already make us happy is important. Appreciation is good for our mental – and even physical – health!
Consider talking with your spouse or partner about this. If you choose to do so, arrange a time when you are both available, awake (!) and not on the run. Choose a quiet time when you can talk uninterrupted for a while. This stuff is important – and it will be important for you and your partner to really listen to one another. Instead of formulating a response while you listen, try to LISTEN TO UNDERSTAND. Ask your partner to do the same. Try to simply think about what you learn from this exercise, without rushing to fix things. See what comes up. Give yourself time to make some changes as needed. And do your best to appreciate even baby steps toward improving any area of your life together.
Good luck!